The Bahamas Initiative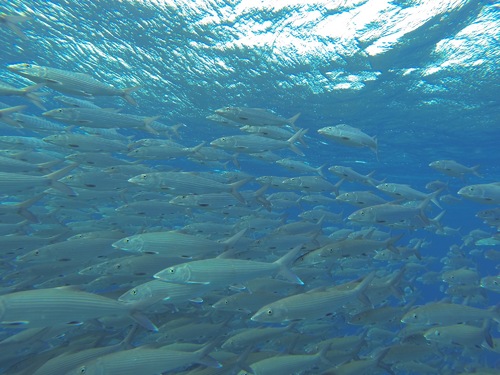 The Bahamas Initiative is a BTT collaborative research, conservation, and education program designed to ensure successful management of the bonefish fishery in The Bahamas. The top threat to the bonefish fishery in The Bahamas is habitat loss/degradation, with a secondary threat of illegal fishing. BTT's research in The Bahamas is aimed at identifying important bonefish habitats. We use numerous research approaches to obtain this important information, including tag-recapture, acoustic telemetry, genetic analysis, physiology, economic analysis, and Traditional Ecological Knowledge. This information is then used to inform ongoing and future habitat conservation and fisheries management plans. Already, BTT research has contributed to the establishment of five new national parks and expansion of an existing national park, and data have been included in a proposal by Bahamas National Trust to develop additional parks.
Research information is also being used to develop and inform education programs designed to increase the awareness of Bahamians about the importance of the flats and coastal habitats to The Bahamas economy and culture. Participation of Bahamians in research is an important education tool. We also incorporate fishing guides through Traditional Ecological Knowledge sharing.
The Bahamas Initiative also uses habitat restoration as a conservation tool, including restoring mangrove creek connectivity by removing artificial barriers to tidal flows, and mangrove restoration to help the flats of Grand Bahama and Abaco recover from Hurricane Dorian.
The approach focuses on collaborations and partnerships with governmental and non-governmental entities, as well as the flats fishing community, to achieve Initiative goals.
Objectives:
1) Determine the population health, economic and biological value of the Bahamas fishery to contribute to conservation of the fishery and habitats
2) Engage fishing guides and lodge owners in conservation education using research as an education tool
3) Assist fishing guides and lodge owners in the formulation of a fishery conservation plan for bonefish and bonefish habitats
Background and Justification
1) The Bonefish Research Program is designed to provide urgently needed information on bonefish throughout the Bahamas.  Without sufficient information on bonefish biology and the fishery, effective management and conservation are not possible.
2) Recent research has revealed large gaps in our knowledge about bonefish, and has revealed that many of our assumptions about bonefish were not valid.  We need to fill the information gaps and correct the assumptions to ensure healthy bonefish fisheries.
3) This research program is a multi-year collaborative program that will involve participation by fishing lodges, guides, anglers, and conservation partners.