Bonefish Pre-Spawning Site Discovery and Protection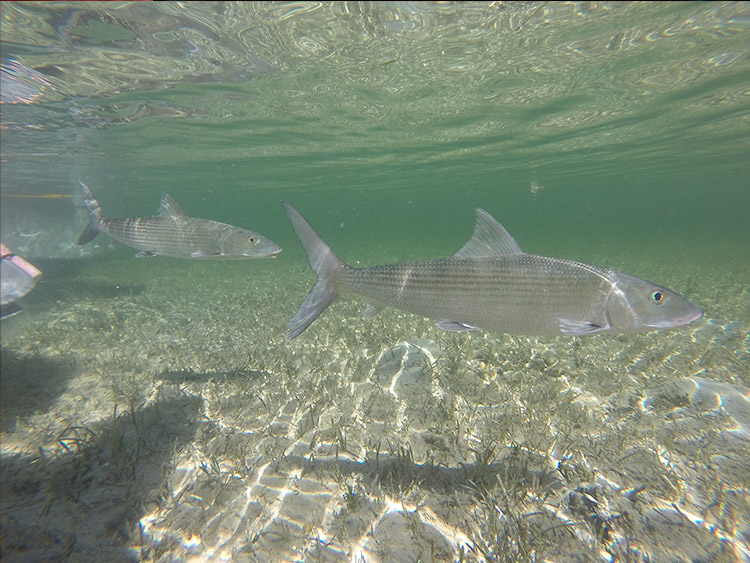 It was first documented that bonefish migrate offshore to spawn in 2011. Since that time, we've not only learned more about bonefish spawning, we've also learned a lot about bonefish movements and habitat use. Recent findings include:
Tagging research has demonstrated that bonefish have small home ranges. The majority of tagged bonefish that were recaptured were within 1 kilometer of the tagging location.
Although they spend nearly all of the year on their home flats, they don't spawn on the flats. Instead, they migrate long distances, 70 miles each way is common, to spawn.
At the end of their spawning migration, they first gather in large schools, called Pre-Spawning Aggregations (PSAs). These PSAs can number 10,000 bonefish!
At dusk, the aggregation moves offshore, where they descend hundreds of feet to spawn.
After spawning, they return to their home flats.
At least some of the bonefish will spawn more than once during the spawning season, which runs from November to April.
Working with colleagues and fishing guides in The Bahamas to identify PSA sites, we have now confirmed 8 PSA sites. In 2015, three of these sites were included in new national parks that were designated by the Bahamas National Trust (BNT). For the PSA sites that have not been included in new national park designations, we will work with BNT and others to develop site-specific protections for these locations. The main threats to bonefish spawning in The Bahamas are habitat loss at the PSA site and along the spawning migration pathway, and illegal harvest be netting.
We are now also working in Belize and Cuba to identify PSA sites, and as we identify sites we will work with local regulatory agencies to protect them.
In Belize, a site near the Belize-Mexico border hosts bonefish from both Belize and Mexico. Threats include coastal development, fishing of the PSA by recreational anglers, and harvest of bonefish on their spawning migration by nets.
In Cuba, two sites have been identified. The habitats are in great shape, but harvest by netting is high.
Stay tuned to BTT.org for updates on this important science and conservation effort.