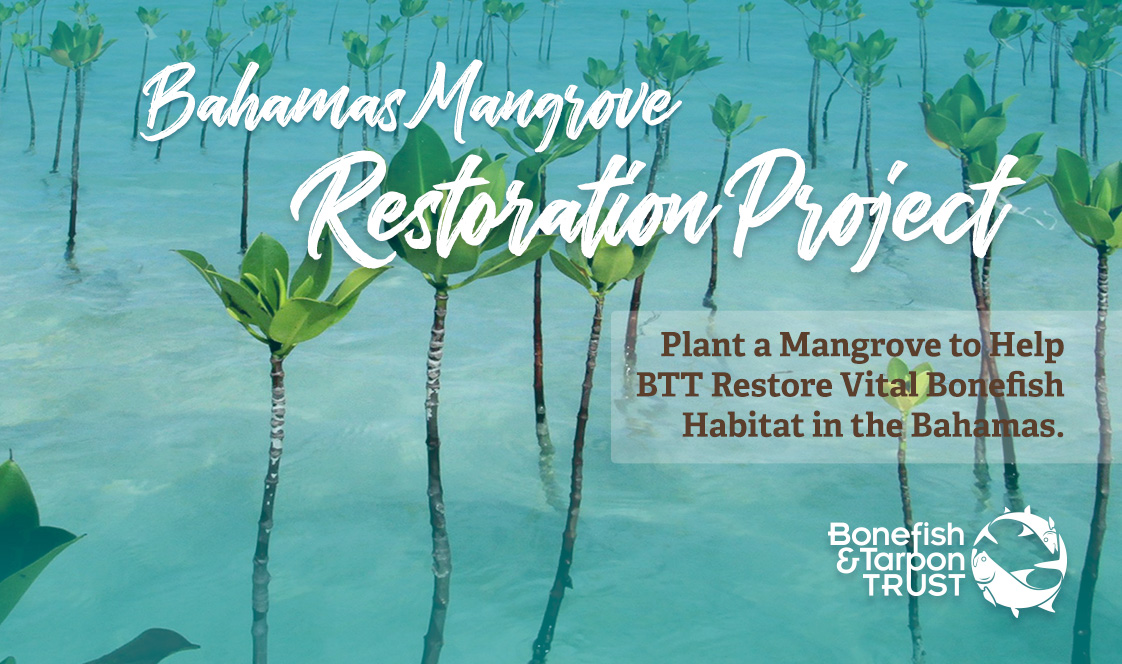 In September 2019, Category 5 Hurricane Dorian tore through the Northern Bahamas, leveling the islands of Grand Bahama and Abaco. The worst natural disaster in the nation's history, Dorian had a devastating impact on the islands' red mangrove forests, which serve as a buffer against storms, prevent coastal erosion, and provide important habitat for bonefish and many other species. Bonefish have drawn anglers to the northern Bahamas since the 1950s and are protected under catch-and-release regulations due to their economic significance; bonefishing generates $169 million annually for the Bahamian economy.
Bonefish & Tarpon Trust's assessment of Dorian's impact to mangrove coverage is sobering. An area of 91 square kilometers was damaged or destroyed, including nearly 74 percent of Grand Bahama's mangroves and 40 percent of Abaco's. These mangroves could take a decade or more to recover on their own. And in the most severely impacted locations, sites where seed banks were blown out, they may not recover at all.
To ensure that the flats fishery fully recovers from the damage inflicted by Dorian, BTT has partnered with Bahamas National Trust (BNT), Friends of the Environment (based in Abaco), and MANG Gear to transplant up to 100,000 mangroves in the hardest hit areas. This large-scale, five-year project, the first of its kind in the country, will target Abaco, Grand Bahama and surrounding cays.
The mangroves will be transplanted with the help of students, volunteers, and Bahamian fly-fishing guides, whose livelihoods are supported by the flats fishery and whose work has been greatly curtailed by hurricane damage and the COVID-19 pandemic. This unprecedented project will help nature heal while also providing a means for the fishing community to get back on its feet. Multiple mangroves nurseries have been set up on Grand Bahama and Abaco, and in December 2020 the first phase of the project commenced with the planting of 4,608 mangroves on Grand Bahama. During subsequent plantings, and the first community-wide planting event in East Grand Bahama in early May, more than 5,000 more seedlings were planted, bringing the project total to more than 10,500 trees planted to date.
You can help BTT restore the mangrove habitats that support the Northern Bahamas' flats fishery by donating to the Northern Bahamas Mangroves Restoration Project TODAY. All donations include a year-long BTT membership. Make your selection below.
Please email nick.hare@bonefishtarpontrust.org regarding Orvis selections and benefit fulfillment.
All contributions are tax deductible as allowed by law. Please contact BTT Director of Development Mark Rehbein with questions. He can be reached by email (mark@bonefishtarpontrust.org) or phone: 786-618-9479