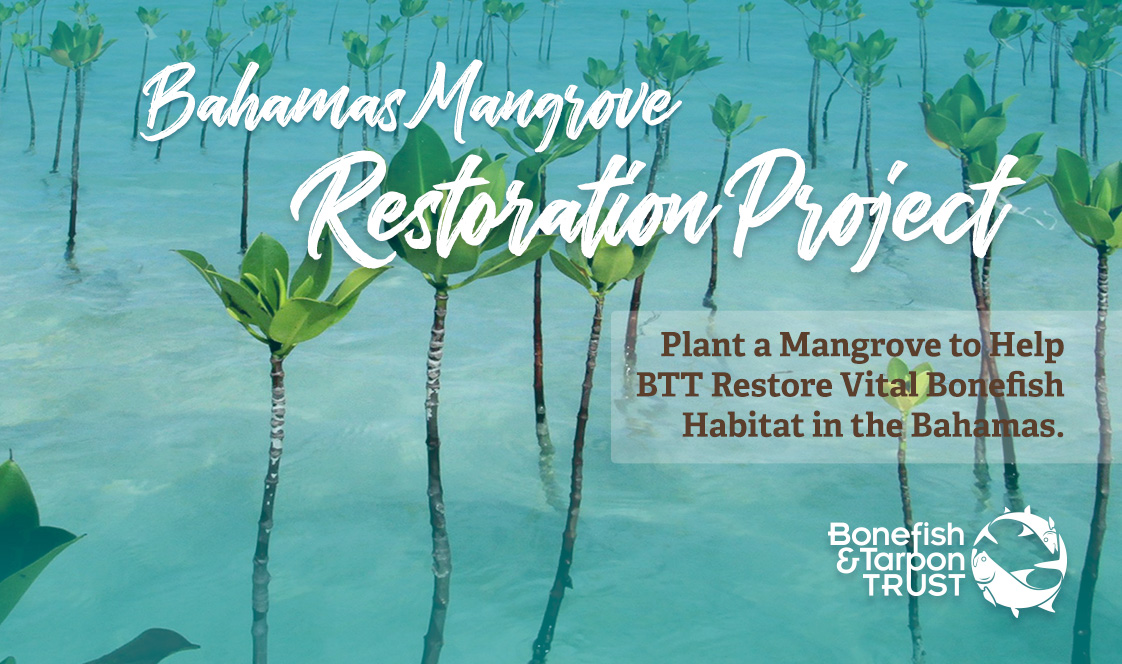 Hurricane Dorian was unimaginable at the time—a powerful Category 5 storm that stalled over Abaco and Grand Bahama for more than a day, producing the worst natural disaster in the country's history.
Fortunately, many answered the call last year to assist our many friends in the guide and lodge community. These generous contributions have helped them slowly rebuild and regain some semblance of normal life. But our work is not done yet!
As promised a year ago, Bonefish & Tarpon Trust is in this effort for the long run. Our commitment is two-fold, to help people and nature. Work on the latter, restoring the fragile flats ecosystem impacted by Dorian, is set to begin soon—if we can raise the necessary funds to do it!
BTT recently completed an assessment of Dorian's impact to mangrove coverage, and the final report was sobering. An area of 91-square kilometers was damaged or destroyed, including nearly 74% of Grand Bahama's mangroves and 40% of Abaco's. In partnership with Bahamas National Trust, BTT has drafted a plan to help restore this critical flats habitat and put local fishing guides to work. Without such a plan, these mangroves could take a decade or more to recover on their own. And in the most severely impacted locations, sites where seed banks were blown out, they may not recover at all.
Mangrove restoration has gained popularity over the years and has become increasingly important with the rapid decline of mangrove forest worldwide. In the Bahamas, mangrove restoration has been mostly conducted on a small scale. This large-scale, five-year project, the first of its kind in the country, will target Abaco, Grand Bahama and surrounding cays. With support from the State of Florida, BTT will coordinate the collection of 25,000 mangrove propagules in Florida, 5,000 per year, and transplant them with the help of Bahamian fishing guides working with us.
We hope you will take this opportunity to support our beloved Bahamian habitats and fishing communities.
Please email nick.hare@bonefishtarpontrust.org regarding Orvis selections and benefit fulfillment.
All contributions are tax deductible as allowed by law. Please contact BTT Director of Development Mark Rehbein with questions. He can be reached by email (mark@bonefishtarpontrust.org) or phone: 786-618-9479